HOW DO YOU RENT A PHONE VIRTUAL NUMBER?
Rent a phone virtual number is the long-term use of the number to receive unlimited quantity of SMS or OTP from the selected service.
The minimum rent term is 4 hours and the maximum is 4 weeks (Operator MTT).
If you have bought a number for rent and have not received SMS or OTP in the first 20 minutes, you can cancel the number rental and the money will be returned to your account in full.
But ifit's been more than 20 minutes and you haven't received sms, it's impossible to cancel the rent.
It should also be noted that the previously sold number will not be re-sold for this service upon expiry of the rent term.
THERE ARE TWO OPTIONS TO RENT VIRTUAL NUMBER:
1

Full rental - acceptance of unlimited quantity of messages from any service*.

2

Rent a number for a specific service - in this case you will get an unlimited number of sms only from the service you have chosen.
* - do not issue SMS from financial services (banks, electronic wallets, etc.).
EXTENSION OF RENT TERM:
It is possible to extend the rent term of the number of MTT operator at any time on the site.
It is possible to extend the rent term of the number of another operator by means of a call to technical support, unless the fixed term of the rent has come to an end.
The extension of the completed rent for the MTT operator is +100 rubles to the cost.
The extension of the MTT operator numbers is performed in the HISTORY or RENT TAB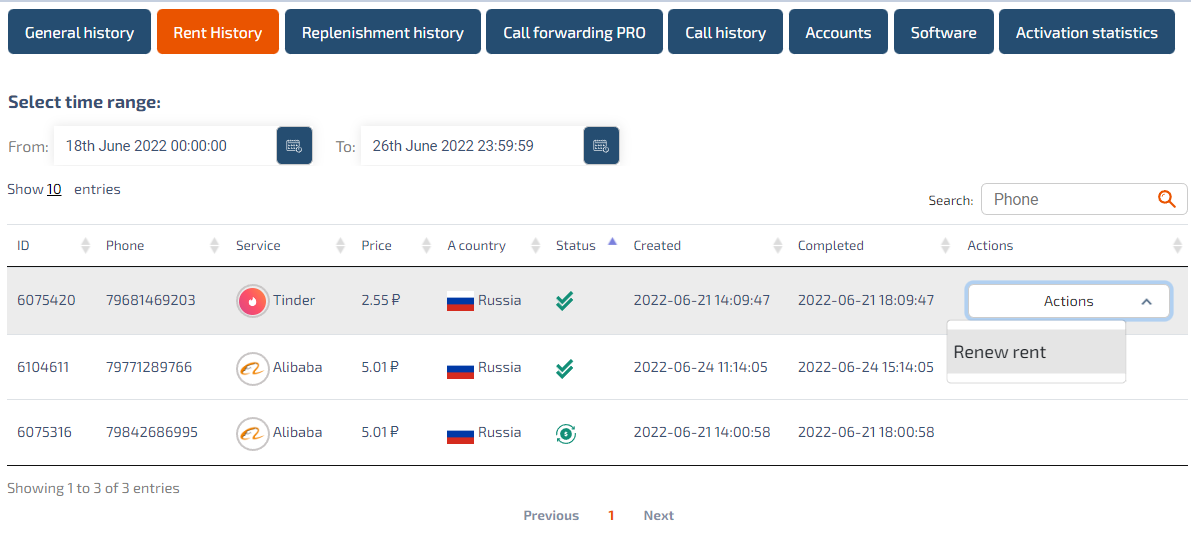 The rented number is located in the Rent tab, in the mobile versionof the site it is in the OPERATION tab. Configure filters for the correct display of numbers. After the lease term ends, the number will be displayed in the HISTORY TAB.